When I think about The Sun in tarot, I think about my solar plexus chakra.
How I got to know what this was at all was an accident. I had this therapist briefly a few years back to who I explained what it felt like to feel in my power (you know how therapists always ask you 'how feelings feel in your body'). I told her it felt like yellow light bursting out of my sternum. Like, a carebear shooting a rainbow of light out of their torso.
Totally like that.
The next time I saw her she brought me a print-out of the chakras. The solar plexus chakra is pictured as yellow, at the sternum. It's the energy centre associated with social instinct, power, and wisdom.
This is totally the energy I felt in touch with when I felt 'in my power' –  like a yellow, bright light, like a ball of sun inside me. It was cool to see that picture, and make the connection between the way I felt and the chakra system. I didn't know what chakras were before that.
This discovery opened a huge can of worms in my that was like, more like a can of light in my life. I learned that it's not necessarily out of my control to feel how I want to feel, and that when I don't feel how I want to feel, I can always get back there. It just takes turning inward.
When I pull the sun in tarot readings, it's a reminder of that bright yellow energy – it's like, permission granted. It means we can trust ourselves to say the right thing, do the right thing, and move forward effortlessly. It's time to shine.
Summer solstice is next week and it's going to be a lot easier to feel that inner brightness. Days are longer, and the sun will literally be shining. Now's the time to allow that easy livin', bebes.
Here's a spread to start your summer right.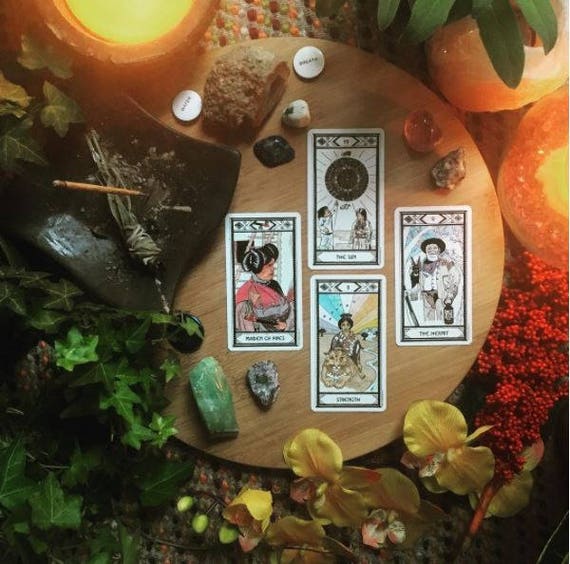 Card 1: What's working – accept
Card 2: What's not working – release
Card 3: How to express your best, brightest self
Card 4: How to sustain positivity and momentum all summer
Peep my Sun Will Come Out Summer Solstice Tarot Spread on my Etsy shop.